MEH601SS - Chimney extractor
Product Overview
The MEH601SS 60cm chimney extractor in stainless steel has a contemporary design which allows it to be a main focal point in any kitchen. It has 3 speeds with push button control, a twin fan motor and a built in LED light for good illumination.
Where to buy
Specification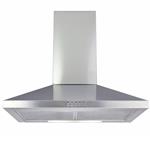 Specification
Features
Speeds: 3
Telescopic chimney: 1
Twin fan motor: 1
3 speeds: 1
Ducted/re-circulating installation: 1
Technical Specification
Outlet diameter: 120- 125mm mm
Mains lead length: 1 m
Required height over electric hobs: 600 mm (min)
Required height over gas hobs: 700 mm (min)
Extraction Rates And Noise
Noise level at first speed: 63 dBA
Extraction rate at third speed: 382.3000 m3/h
Noise level at third speed: 67 dBA
Extraction rate at second speed: 303 m³/hr
Extraction rate at first speed: 211 m³/hr
Noise level at second speed: 66 dBA
Filters
Number of charcoal filters (optional): 2
Number of grease filters: 2
Number of layers: 4
Aluminium grease filter: 1
Misc Information
Downloads
Warranty
For peace of mind all Matrix appliances come with a 2 years parts and 1 year labour warranty
Look good with...